We've released tmMCO 2.5 and our product owner Franz Berger briefly presents the features nuovos i fantasticos.
Italian Language Support
Our first release feature for the Machine Condition Observer (tmMCO) goes out to our Italian neighbors. We've added Italian language support. In part because we want to make it easier for you to use tmMCO, in part because we're all longing for a vacation in Italy, and this is as close as it gets for the time being. All jokes aside, the newest language addition was a must-have request from our customers. Italian is the sixth language for tmMCO. The other five languages are in English, German, Japanese, Spanish and French. As a user you can rate and give feedback on your language support directly in the application itself, by clicking on the "message" icon as shown on the screenshot below. Our service team would love to know what you think.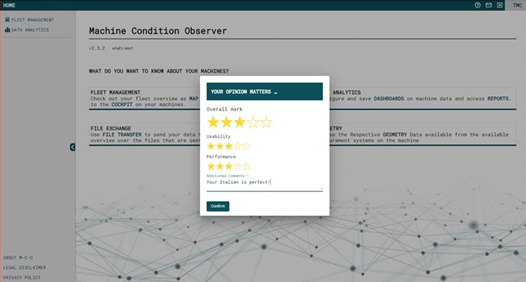 Easy data transfer via API
On to the more technical nitty-gritty: for all programmers, this release includes an easy-to-use application interface which allows you to up-/download data files from machine 2 cloud and cloud 2 machine. Users can employ this feature to automate data transfers from the machine to their back-office applications and vice versa. This is the end of the USB stick.
Future-proofing data structure
To increase tmMCO's robustness, scalability and speed we have invested time for this release on data architecture and performance improvements next to the usual bugfixing.
Useful links for tmMCO
For current users and customers:
If you're a user and you want to request a feature or get support use our service desk.
If you already have access to our service desk, here are the tmMCO feature release notes.
For future users and customers:
If you are renewing your track machine fleet and you want to know more about tmMCO, visit our tmMCO product page or contact us for a detailed presentation.