Manuel Urstöger, Product Manager at tmc celebrates 100 days at tmc. Here is his resumé.
Do you know what these bolts are for? Before starting my new job at Track Machines Connected I had no idea of the large bandwidth of products that are part of the tmc product portfolio.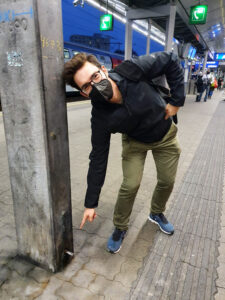 After my initial get-together with all colleagues I joined my new colleagues in the product management team. They put me in charge of my first new product development tasks. The team trusted me straight away and gave me the possibility to really dive into the exciting product world of tmc. All the help I received from my colleagues along the way during the starting phase was a big relief. After 100 days I have noticed that I've learned a lot, but there are still more things for me to learn. 😊
Try new things: switching from Mechanical Engineering to Software Programming
I am happy that I have chosen tmc. With this choice I have taken the next step in my career in a new area, switching from mechanical and electrical engineering to IT software solutions and measuring railway systems for track machines, railway infrastructure and fleet management. The entire team has made the switch easy for me. We're having fun at work and in-between too.
I would like to take the moment to thank everyone for your warm welcome and support during my first 100 days at tmc. Now I am looking forward to the next hundreds of days and maybe, if there is something really interesting along the way, Verena – who usually writes articles for our company blog – invites me to come back for another blogpost.
Before I go: My colleague Benji took this picture of me last night. If you have questions about this bolt and how you can measure them with our systems contact us. We would love to show you all about our digital track geometry measurement solutions.
Or are you interested in switching fields and trying something new? Join our growing tmc team and check out our jobs in Linz or our jobs in Vienna.