Machine Condition Observer (tmMCO) can now further advance vendor-independent monitoring and maintenance
In the realm of predictive maintenance, combining simplicity with greater precision at any stage of the process is always a step in the right direction. For example, the Machine Condition Observer (tmMCO), our web-based platform for monitoring of track machines or fleet, can now further advance vendor-independent monitoring and maintenance with its intuitive CVS data export feature.  
Easy CSV data export
CSV gives users a more straightforward option in information storage. With the help of a valid API key, raw data can be downloaded from Dashboards using CSV format, which would allow for the viewing of up to 20 signals per dashboard and aggregation of as many as 90 downloads per month. Intuitive and easy to employ, the system notifies you when the CSV file is generated successfully and confirms its completion with an email to the user. Conveniently, the information can be stored for up to 90 days in the platform's history. Making data development, storage and organization easier, tmMCO's CSV application renders machine-related statistics extrapolation even more seamless.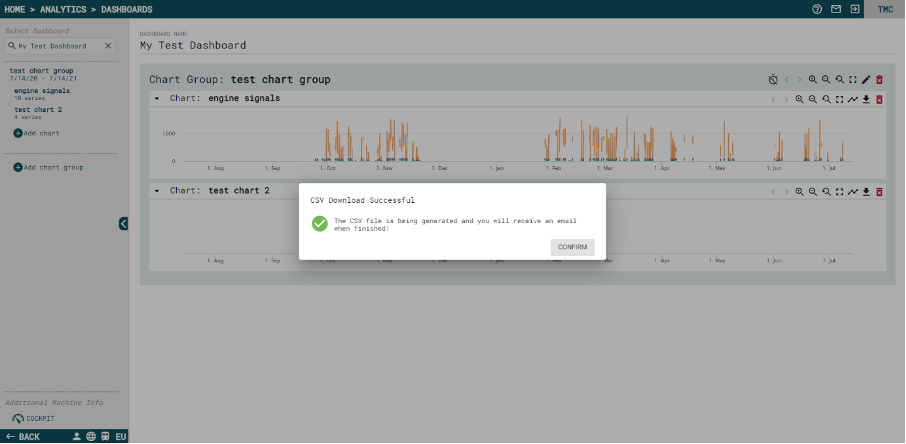 Multiple end-users per Machine
tmMCO's latest advance offers better options in a machine's end-user association. One machine can now be associated to multiple end-users in two different ways. A manufacturer can set more than one direct user in the interface during the machine's set-up. And alternately, the distributors can set more than one user during the machine's set-up. Casting such a precise net of connections ensures a more enhanced machine maintenance. 
Thresholds in Dashboards: Improving Signal Analysis
Productivity often springs forward from the accurate execution of the smallest details! This is why users will have the option to also add Y-axis thresholds in order to achieve a better signal analysis in the Dashboards. Such precision is always welcome in the Dashboard's diverse data unification. To further ensure better clarity and distinctiveness, thresholds are also provided using a specific value and line format, including variable colors and labels. With these features signal analysis seems even more effortless. Try it and let us know!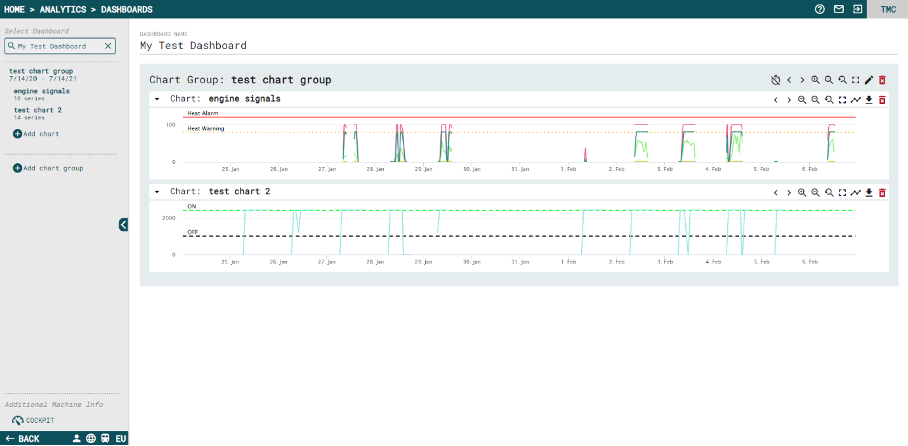 Interactive Workshift Report
This time for tmMCO, an improvement in data features also means to literally go the distance. Based on the existing static workshift reports, the user can now interact with the data and can – for the first time – display machine distance-based data. More on the possibilities with reports in tmMCO will be presented in-depth in one of our next feature update posts. Stay tuned or check out tmMCO right now.